One of the greatest movies of all time was Ghostbusters. It was followed up with one of the greatest cartoons of all time, The Real Ghostbusters (one of the most successful Movie-to-TV translations EVER). The mix of comedy, horror, and weird science was white-hot in the Eighties, and still maintains a loyal fan following to this day!!!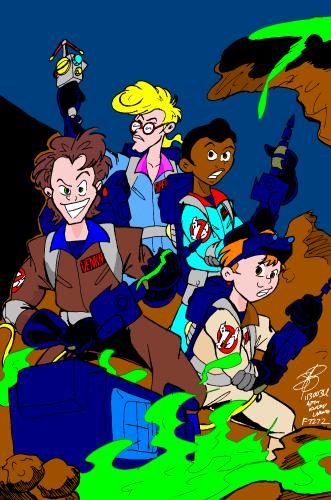 Picture inspired by Kurth, Lapointe, and Blond
Updates 8-22-05!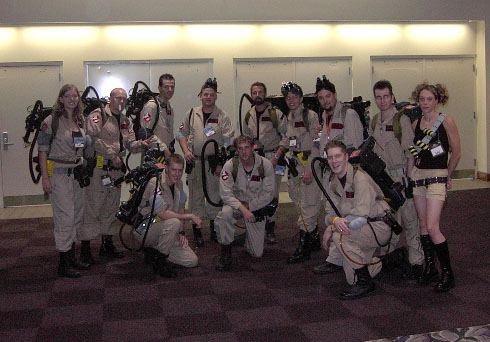 Item 1: Just a few days ago (August 20) I attended the big gaming convention GenCon, and by far the highlight of the day was meeting some of the other members of Ghostbusters International in person for the first time. Dr. Vincent Belmont (
Arcane Division
, and long-time fan fic contributor, including the editing of
Chronicles of Gozer
), Kevin Kemarly of the
Onarga Ghostbusters
, Greg Justis of the
Detroit Division
, and what must have been Nick Schueren's entire
Louisville Ghostbusters crew
. As well as a couple of new fans from the Southside of Indianapolis (small world sometimes, huh? Lol) Despite not having a flight suit, I made a semi-credible showing in that illustrious company thanks to Kevin lending me a lab coat ("I'm a scientist") and a "neutron saber" (Well, okay, a Star Wars lightsaber, but close enough...)
Picture courtesy of Nick Schueren. (And no, I'm not in it, thank goodness, or it'd probably make the server crash.)
Update--Oct 3: Read Ghostbusters International: Con-Fusion for a fan fiction take on the events of that day
Item 2: The all-new Ectozone.net. Well, okay, it's not really a new site (if you pay attention the url actually takes you to a page of Ectozone.com) but a nifty new trick I found where I can assign subdomains to the Ectozone.net domain name. I could do that with Ectozone.com, but Lycos only allows three...with GoDaddy, I can create up to one hundred. All the old urls still work, by the way, with the exception of the Digimon site (which used to be Ectozone.net). So here's the component sites of Ectozone.net for the moment...
forum.ectozone.net The Ectozone Message Board. The configuration of the boards have been changed to fit the new concept, but it's basically the one I've had up over a year now.
gbcomm.ectozone.net The Ghostbusters Omnibus Fan Fiction Center
gozer.ectozone.net The Chronicles of Gozer web site.
digimon.ectozone.net The Digimon site that noone ever visited, but it's still there just in case anyone wants to.
gb.ectozone.net Okay, I'm being a little silly with this one, because that one takes you right back here (lol)
There's one more I haven't made public yet, but will when the time is right. And there are a couple of other sites I know who might appreciate the subdomains...but nothing about that until more is set up.


Fritz V. Baugh
Lord of the Ectozone
---

---
The Ectozone is a member of GBComm, the Ghostbusters community! Created by Brian Reilly, a contributor to the Ghostbusters Omnibus Timeline. Check it out!!!

<!-61803w>
---

<!-GHOSTBUSTERS OMNIBUS logo>
Everything you didn't even know you were afraid to ask. Click
HERE
to enter the Ghostbusters Reference Omnibus!
---
My alter ego, Dr. Fritz V. Baugh, is a member of the Ghostbusters West Coast,a franchise of Ghostbusters International. Click on the logo below to visit the GBWC web site!!!

---

<!-FRITZ'S FAN FICTIONS logo>
My own take on the Ghostbusters. Some of my own creations aren't this much fun to write! Click HERE to see the stuff...
Five newest stories (newest on top)
<!-059->

Extreme Ghostbusters: Hearts In Eclipse, Part One
1998--Timeline Year Sixteen
Tensions are rising in GBCentral, as conflict begins to build between Team Extreme and their two newest members...and the return of a long-absent member of the supporting cast threatens to spread the tension into their predecessors' ranks.
<!-058->

Ghostbusters West Coast: Act Two, Part Two
2005--Timeline Year Twenty Three
The mysterious ninja takes on Calcent the Eye Collector, but even he can't stop the bloodthirsty fiend. How are the Ghostbusters going to stop this opponent when the standard procedure is useless? Plus, another new face appears in GBCentral West, one that gets a reaction out of Otter.
<!-057->


Ghostbusters International: Con-Fusion
By Fritz Baugh, with Vincent Belmont, Kevin Kemarly, and Greg Justis
2005--Timeline Year Twenty Three
August 20. GenCon is the world's largest gaming convention, and just happens to be held in Fritz Baugh's old home town. But he, Vincent Belmont, Kevin Kemarly, and Greg Justis are in for more than they bargained for, and I'm not just talking about being insulted by Adam Sessler...
<!-056->



Ghostbusters: Chronicles of Gozer Book Five: Escalation
By Various Authors; Edited by Vincent Belmont
2004--Timeline Year Twenty Two
The headquarters of Ghostbusters New York is under attack, and a very specific target is in mind. Ray, Winston, the Extreme Ghostbusters, Nightsquad, and the Arcane Division must work together to stop the worshippers of Gozer...if they can.
<!-055->

Ghostbusters: Nodus
1993--Timeline Year Eleven
Egon Spengler can't catch a break. Ten years ago he'd helped found Ghostbusters Inc. Today he's living alone, dealing with a shock of a personal nature, and now somebody wants to "test" him...and in the process the agenda of Josiah Nodus becomes just a little clearer
---

<!-"Fritz's Fan Art" logo>
"Oh, God, he draws too..." A gallery of profile pictures of numerous teams comprising Ghostbusters International...Click HERE if you dare...
---

<!-GHOSTBUSTER LINKS logo>
There are other great Ghostbuster sites on the web!!! Click HERE to check out some of them!!!
---

<!-ECTOZONE MESSAGE BOARD logo>
Do we really need another message board? Probably not. But as you can see here I made one anyway...
---